This morning, April 29 at LHU, the 142nd AUN-QA Assessment at Programme Level for two programmes of bachelor in Information Technology and Electrical - Electronics Engineering Technology was started.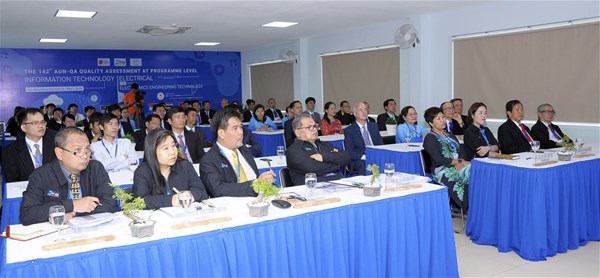 The opening ceremony takes place at the fifth floor of Building D, Campus 2, LHU
Attending the opening ceremony were Prof. Dr. Yahaya Md.Sam - Senior Managing Director of Risk and Quality Management Center of Universiti Teknologi Malaysia (Lead Assessor), Assoc. Prof. Dr. Vimolvan Pimpan, Ms. Ing-orn Jeerararuensak, Prof. Dr. Arnulfo P. Azcarraga and Dr. Agus Setiabudi.
Dr. Do Thi Lan Dai - Chairwoman of the Trustees Board speaks at the ceremony
On the side of LHU, there were the presence of Mr. Nguyen Trung Phuong - Party Committee Secretary, Dr. Do Thi Lan Dai - Chairman of the Trustees Board, People's Teacher Dr. Do Huu Tai - Rector, the University Management Board, representatives of leaders from functional departments, representatives of the two assessed faculties.
Prof. Dr. Yahaya Md.Sam - Lead Assessor introduces activities of the evaluation team at the ceremony
After the opening ceremony, the AUN-QA evaluation team will work with relevant stakeholders. The stakeholders include deans, members of the self-assessment report writing team (SAR), lecturers, supporting staffs, students, alumni,... During the mission, the AUN-QA team will visit facilities of LHU like library, computer rooms, labs, class rooms, dormitory. etc. The assessment will last from April 29 to May 1, 2019.
LHU leaders and the 142nd AUN - QA Evaluation Team at the opening ceremony
The AUN-QA standards are the target many universities in Vietnam and ASEAN region aim to. The goal of universities is not only to attract students but also to improve and strengthen training quality. The AUN-QA standards set has 18 standards with 74 criteria. Each criterion is assessed according to 7 levels.
According to Dr. Nguyen Thanh Lam - Manager of International Relations Department, "At the end of 2017, LHU completed its external assessment according to the Ministry of Education and Training's standards set for education accreditation. At the same time, the University promoted the implementation of preparatory activities for registration of AUN-QA standards. Since April 2017, LHU has been officially a member of the network and prepared to carry out the AUN-QA assessment."