In order to help the elderly and the disabled move easily, a group of students including Dinh Tuan Anh, Dang Ngoc Tai, Pham Duc Nam, Vo Thai Sinh from the Faculty of Mechatronics - Electronics and Kha Pham Truc Linh from Faculty of Administration - International Economics developed the AutoMov project. Reportedly, AutoMov turns manual wheelchairs into electric wheelchairs with full functions, helping users approach cheap electric wheelchairs and limit the amount of redundant manual wheelchairs.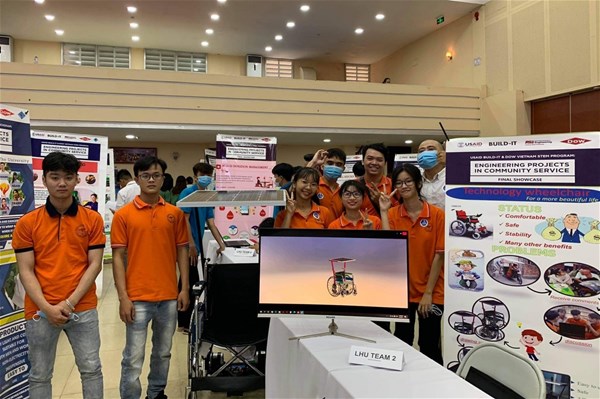 Students from LHU with the AutoMov project at EPICS 2021
(Photo: Cong Chuong)
Earlier, the AutoMov project won First at EPICS 2021 (Engineering Project In Community Service) and First at 2021 Creative Idea Contest.
Presently, AutoMov also participates in other awards such as National Start-up Program 2021, Start-up competition 2021 of the Ministry of Education and Training, Dong Nai Innovation Start-up Contest 2021. As for the National Startup Program, the project was listed in the top 10 and will participate in presentations on December 6 to select the top 6 for the finale.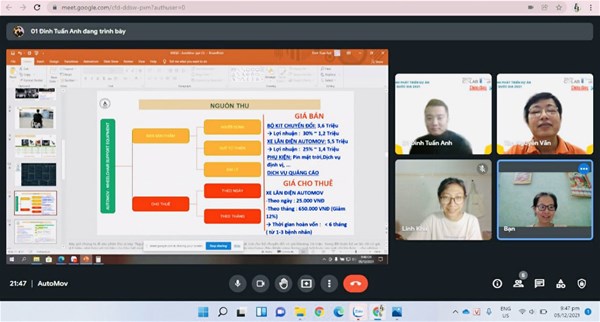 Dr. Nguyen Van Tan and Ms. Ngo Thi Kim Anh enthusiastically guided students to prepare for the semi-finals of the National Startup Program 2021
To provide maximum support for the project of these students, early December, the Startup Department of LHU led by Dr. Nguyen Van Tan and Ngo Thi Kim Anh, M.A - Vice Chairwoman of the Startup Club gave dedicated guides and suggestions to the group to prepare for the coming presentations.