Nguyen Le Hoang Oanh, a third-year student from Korean Studies Department, LHU on July 16 won Third prize at the finale of "K-Trot Festival 2022" contest held by the University of Economics and Finance (UEF) in cooperation with Lifeplaza magazine. The contest as a part of a series of events to celebrate the 30th anniversary of the establishment of diplomatic relations between Vietnam and Korea, aimed to create a healthy playground for students who love Korean in Ho Chi Minh City and nearby areas.
The final round saw the competition of 16 special performances from Vietnamese and Korean students. Besides LHU, contestants also came from many other institutions such as University of Foreign Languages and Information Technology, Van Lang University, Hong Bang International University, Saigon University, UEF, and HCM King Sejong Academy 2 - HCM City University of Education.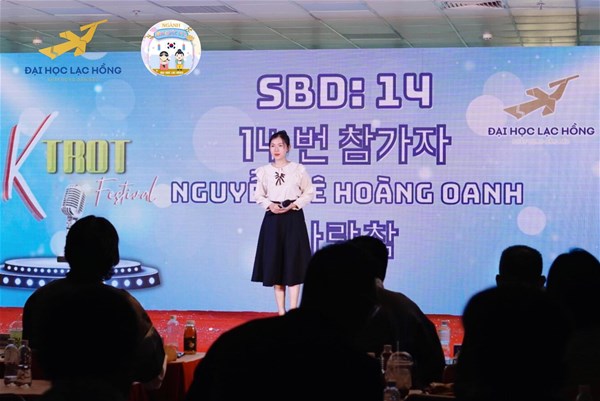 Nguyen Le Hoang Oanh performed her item at the final round
Participating in the contest, Nguyen Le Hoang Oanh excellently passed the preliminary round to enter the final round. At the finale, with the item "Sa Rang" contestant Hoang Oanh excellently overcame many other contestants to win the Third Prize.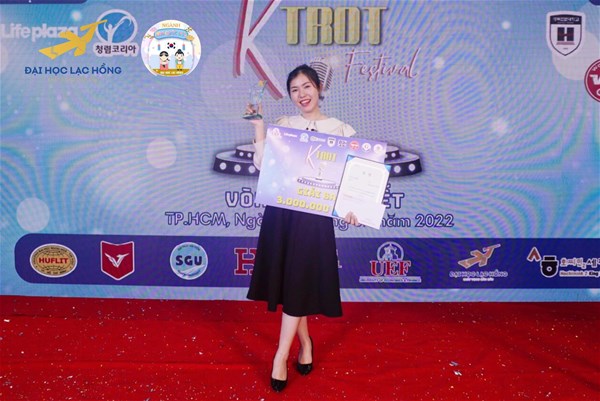 Oanh took Third place at "K-Trot Festival 2022" contest