On October 19, LHU held a ceremony to receive the Certificate of Quality Accreditation according to the requirement of the criteria of the ASEAN University Network Quality Assurance Standard (AUN-QA).
Six training programs including Information Technology; Electrical and Electronics Engineering Technology; Accounting; English Language; Business Administration and Pharmacy were awarded Certificates of Quality Accreditation in accordance with the requirement of the AUN-QA quality assurance standards.
The ceremony saw the presence of Mr. Johnson Ong Chee Bin - AUN-QA Expert, Founder of Education Quality International; A/Prof. PhD. Pham Quoc Khanh, Deputy Director of the Quality Management Department, the Ministry of Education and Training; Mr. Nguyen Son Hung - Vice Chairman of Dong Nai Provincial People's Committee; leaders of provincial departments and agencies; representatives of Department of Education and Training of Phu Yen province; more than 40 enterprises, representatives of 33 high schools and many distinguished guests. On the side of LHU, there were Ms. Do Thi Lan Dai - Chairwoman of the University Council; DSc. Lam Thanh Hien - Rector; the Rectorate Board; leaders of units and lecturers.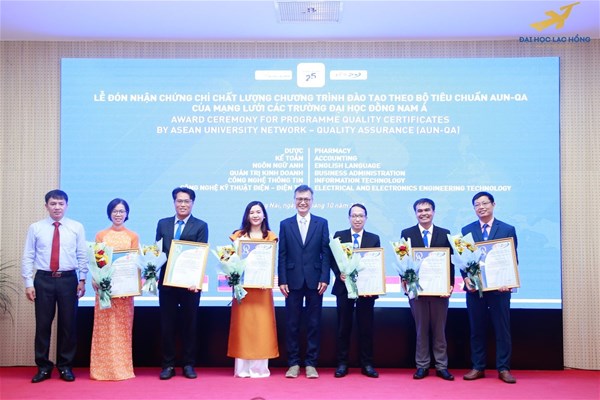 LHU's six programs were honored to receive the Certificates of Quality Accreditation for successfully completing the AUN-QA Standard Assessment
Speaking at the ceremony, Deputy Director of the Quality Management Department, the MoET Pham Quoc Khanh and Vice Chairman of Dong Nai Provincial People's Committee Nguyen Son Hung said that the six training programs of LHU accredited by the AUN-QA brought many benefits to the University, especially students. They also recommended the University to continue to pay attention to the good implementation of the quality accreditation, contributing to improving human resources training.
LHU currently has 10 faculties, providing 20 training programs in the fields of economics, technology and languages ​​at undergraduate, master, and doctoral levels. For many years, LHU has always attached special importance to the quality accreditation and its training programs in order to improve human resources to supply the labor market and international integration.
LHU will continuously try its best to demonstrate its development after 25 years of establishment, and affirm its commitment of quality human resources training.