In order to deploy and apply the learning contents from the EMVITET Project into teaching, learning and research activities at LHU, the Education Development Team organized the training workshop "Competency-based education and proper methods for assessing student learning outcomes". The program attracted nearly 170 lecturers from all Faculties.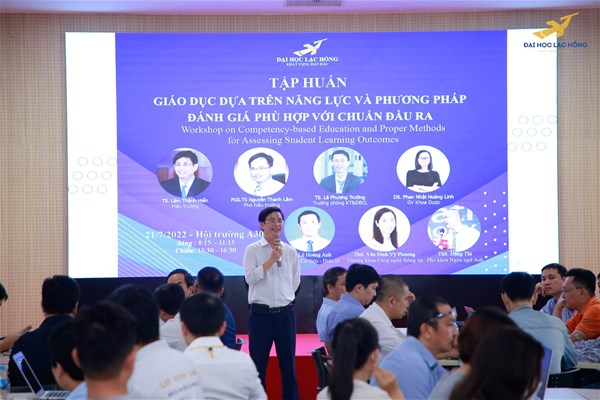 DSc. Lam Thanh Hien - Rector at his presentation at the workshop
LHU lecturers actively participated in training workshops to improve teaching competency
The training took place in 2 phases. Lecturers learned by themselves and studied materials designed by instructors on the system learn.lhu.edu.vn in the first one. In the second phase, lecturers participated in the workshop to learn about competency-based education, assessment methods in line with output standards, some competency-based education applications in teaching practice… During the workshop, they were provided knowledge and experience from speakers and experts including DSc. Lam Thanh Hien - Rector; Assoc. Prof. Dr. Nguyen Thanh Lam - Vice Rector; Dr. Le Phuong Truong - Head of the Office of Educational Testing and Q.A; Pharmacist Phan Nhat Hoang Linh - Lecturer of Faculty of Pharmacy; MSc. Le Hoang Anh - Vice Dean of the Faculty of Mechatronics and Electronics; MSc. Van Dinh Vy Phuong - Dean of the Faculty of Information Technology and Dang Thi, M.A - Vice Dean of the Faculty of English Language.
More training workshops will be held to ensure that all lecturers of LHU can approach and implement competency-based teaching and assessment methods in teaching, learning and research processes.