On January 6 morning, at the Conference to conclude the emulation covenant for the year 2022 and deploy tasks for the year 2023, on behalf of LHU, Assoc. Prof. Dr. Nguyen Vu Quynh - Vice Rector made a report to end his term and handed over the role as Head of the 15th Emulation Block in 2023 to the leaders of Dong Nai College of Decorative Arts. The event took place at Du Long Restaurant in Buu Long Tourist Area, Bien Hoa city.
Head of the Dong Nai provincial Committee of Emulation and Commendation Thai Binh Duong, leaders and emulation officers of members in the Emulation Block 15 attended the Conference.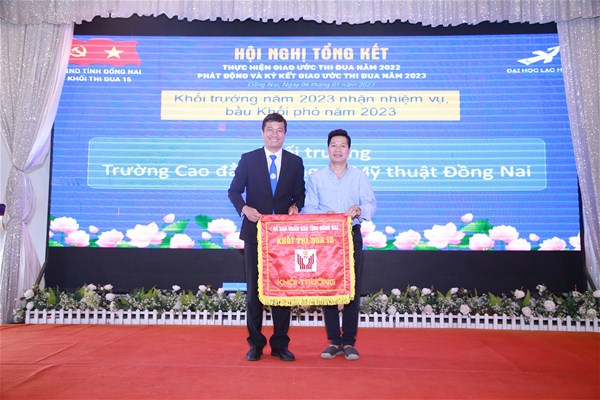 Assoc. Prof. Dr. Nguyen Vu Quynh - Vice Rector of LHU (left) handed over the role of Head of the 15th Emulation Block in 2023 to Dong Nai College of Decorative Arts
At the Conference, the Head of the Block made a report to summarize the emulation covenant in 2022 and set targets for 2023. In the past year, when the pandemic situation was under control, many emulation activities took place with rich and exciting contents, thereby creating a competitive atmosphere among officers and employees. Through emulation movements, many collectives and individuals have been commended and recognized by authorities and people at all levels. In particular, LHU was honorably acknowledged and awarded the first class excellent emulation flag for its fulfillment of emulation movements and assigned tasks. Besides, LHU has made significant contributions to the emulation movements.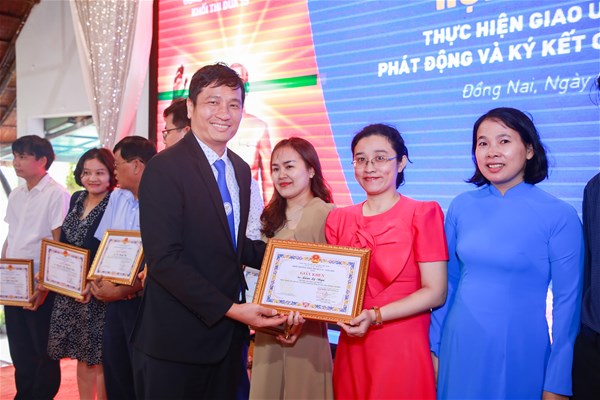 Ms. Lam Le Nga, LHU was honored for her excellent fulfillment of emulation work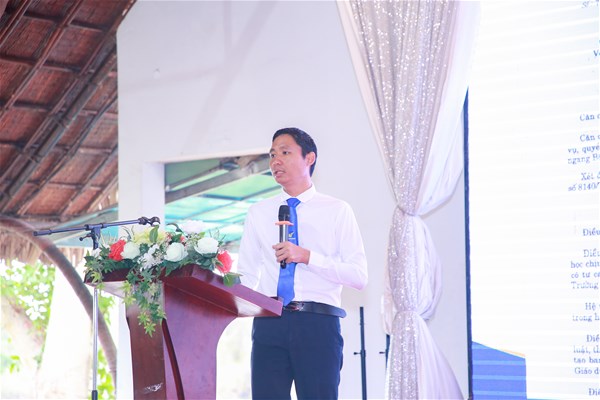 MSc. Nguyen Minh Son – Vice Dean of Faculty of Information Technology presented at the Conference
Also, representing 13 member units, MSc. Nguyen Minh Son - Vice Dean of the Faculty of Information Technology, LHU made a presentation themed "IT activity, a 25-year journey of LHU".
On this occasion, the Organizers praised and rewarded officers who have made outstanding achievements in the emulation and commendation activities in 2022. Before concluding the Conference, leader of the Emulation - Commendation Committee of Dong Nai province congratulated, acknowledged and appreciated the results that the 15th Emulation Block have achieved. He also gave suggestions on the organization and some instructions related to emulation and commendation in order to further improve the operational efficiency of the Block in the coming time.
Winners of the Sports Festival 2022 in a memorable photo with the Organizers
The Organizers also honored and awarded collectives and individuals for their excellent achievements in the Sports Festival 2022, including disciplines: football, volleyball, badminton, tennis, tug of war, and sack jumping.