Lac Hong University began to join in Vietnam Science and Technology Creation Award (Vifotec – Vietnam Fund for Supporting Technology Creations) in 2010. The University won prize for the first time - starting the following success at the biggest Science and Technology Competition in Vietnam.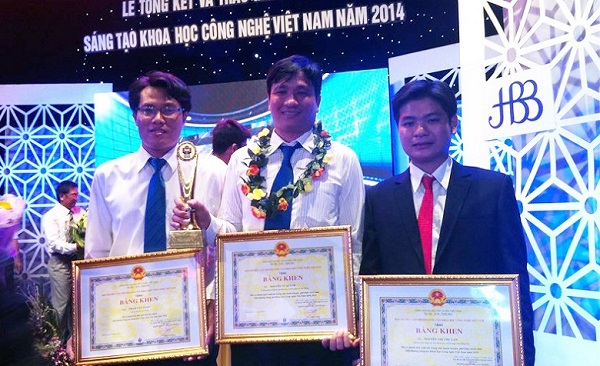 Pham Van Toan, MSc, Nguyen Vu Quynh, PhD and Ngo Thanh Binh (from the left side) at the Awarding Ceremony of 2014 Vietnam Science and Technology Creation Contest.
Manager of Scientific Research Department - Dean of Mechatronics - Electronics Faculty Nguyen Vu Quynh said that wining projects were carefully assessed on theoretical science and practical application by prestigious scientists. Wining authors were technological science talents.
Remarkable Prizes
In 2010, Mai Duy Dat (Course 2006 - Faculty of Mechatronics, now Faculty of Mechatronics - Electronics) was the first student representing LHU to join in Vifotec Award with the project "Designing and Executing Torque WH-PP Force Measuring Machine" - which won Consolation Prize. That is the first success beginning more effort in scientific research.
At the end of that year, Dat' project conquered international Board of Jury at 2010 Malaysia Science and Technology Competition and won Silver Prize. Dat is currently working at Department of Academic Affairs. He shared "My wining project was created by stable knowledge base from my devoted lecturers and I was also created conditions to take full practice at my University".
Mai Duy Dat received medal and certificate of merit from Vietnam General Confederation of Labour.
In 2011 and 2012, LHU was honored to be listed in wining units at Vifotec Award. These were two Consolation Prizes of the two authors Tran Van Lang and Tran Phu Cuong. Particularly, the project "Constructing dip coating system using in sol-gel method" carried out by Tran Phu Cuong was highly applicable. That LHU had won Vifotec Award for the three successive years made the Board of Jury remember its name.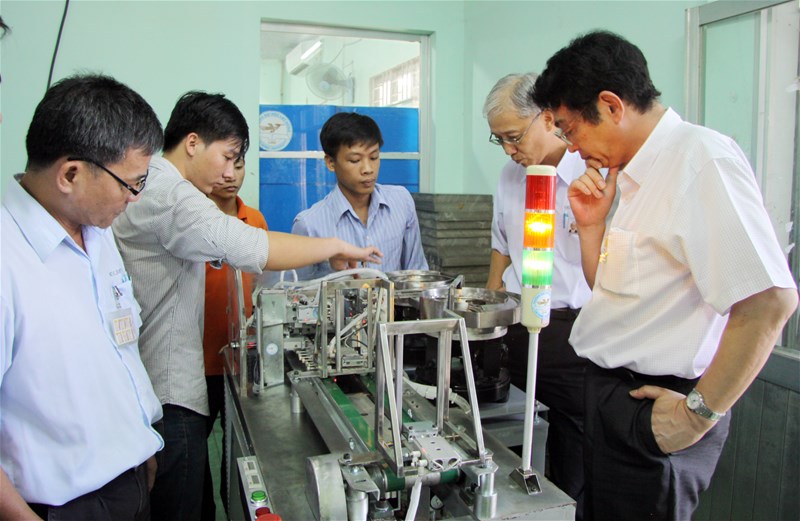 Japanese experts at Nectokin Company checked and took over technology transfer project of LHU.
In 2013, Pham Van Toan, MSc brought first Second Prize to LHU with the project "Automatic inductor assembling system replacing handmade steps". Earlier, this project had been practically applied at Nec Tokin Electronics Vietnam Co. - a well known electronic enterprise of Japan, located in Loteco Industrial Park. Also, the project has been highly appreciated since it is not inferior to machines manufactured by the Japanese. Even its price is much lower than imported machines.
At the Awarding ceremony of 2013 Vifotec, in addition to Second Prize won by Pham Van Toan, LHU received Third Prize with the project "Automatic Goods Transporting Solution Using Smart - agv" carried out by Tran Van Thanh, Tran Viet Thien and Nguyen Quang Cuong. Le Hoang Anh, MSc also won Consolation Prize by the topic "Locating robots to move using camera and landmark"
Late May, LHU again won one Second and one Consolation at 2014 Vifotec Awarding Ceremony with the project "Automatic inductor producing line" by Nguyen Vu Quynh and "MPC automatic component assembling system" by Pham Van Toan, respectively. The University also received 13 certificates of merit for its scientific research achievements at the 2014 awarding ceremony. In addition, Pham Van Toan was awarded intellectual property certificate for the product "Automatic inductor assembling machine"
Strong points in scientific research
According to the University Management Board, scientific research movement has become as a regular mission of Faculties, Departments and students. Many Faculties have joined in different prestigious competitions. At the 2014 National Congress of Medicine and pharmacy majored Universities, LHU won three Second Prizes including the project "Study of copper nanomaterial" by Cao Van Du (Chemical and Environmental Engineering), "Production study of ecotin Escherichia from recombinant Escherichia coli cell" by Mai Huong Tra (former Faculty of Biological and Environmental Engineering); "Fabrication study of polymer ketoprofen nano" by pharmacist Le Ngoc Thanh Nhan (Pharmacy Faculty). Nhan also received Third Prize for the project "Pharmacy study of 30mg ketoprofen sticking plaster".
According to Department of Scientific Research, the quality of research papers has been appreciated by the Board of Jury at provincial and central levels. Particularly, at 2014 Vietnam Young Science Talent Award, with five participating topics, LHU students won two Third, two Consolation. At 2014 Dong Nai provincial Technical Invention Contest, the University got two First, three Second, 6 Third and nine Consolation.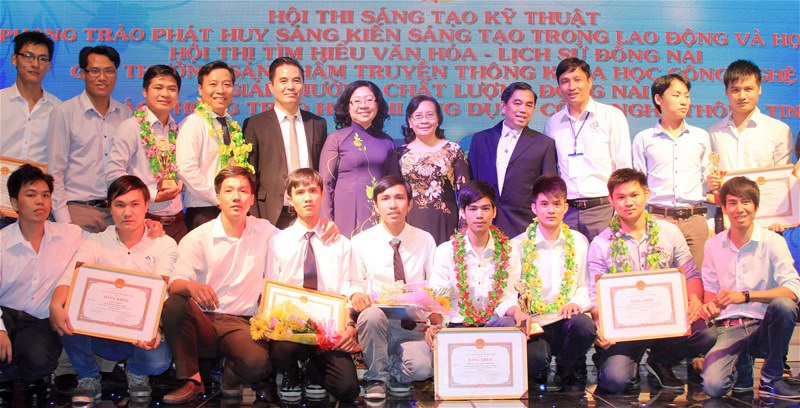 LHU occupied nearly two third prizes of 2014 Dong Nai provincial Technical Invention Contest.
One of the most outstanding achievements in LHU's scientific research is researching and making robots. Up to now, the University has collected all prizes from lowest to highest at national and international robot contests, especially the championship title at 2014 ABU Asia-Pacific Robot Contest held in India. "Robot is an important technology in many fields of life. To make a robot, students are required to have intensive general knowledge of mechanics, electronics, and programming. When students approach robot technology, they have conditions to apply theory into practice, especially working skill in groups", shared Mr. Lam Thanh Hien - Vice Rector of LHU.
From robot technology, LHU students have manufactured many machines replacing men. Importantly, these devices are productive from five to ten times. Typically, with lecturers' instruction, some students from robot playground have manufactured automatic inductor assembling machine which is currently applied at Nec Tokin Electronics Vietnam Co. Lately, the University's students got the championship title at 2015 Shell Eco marathon Asia with final result of 164.4 kilometers per liter of ethanol E100. This is the first representative of Vietnam to win the champion at this contest. That is premise for students to produce many extra-fuel saving devices in the near future.
According to People's Teacher Dr. Do Huu Tai - Chairman of the Trustees Board - Rector of LHU, research activity has been paid important attention, contributing to increasing learning and teaching quality. From this activity, theoretical knowledge is transformed into practically applicable products. Many scientific products have been accepted by businesses. These achievements rise from lecturers' science passion communicated to students, especially strong investment of the University in upgrading best equipment serving students' practice, also giving worthy bonuses to winning projects.
By Diem Nhi - Trans. by WBE