Lying in a series of activities to celebrate April 30 and May 1, the Prime Minister Nguyen Xuan Phuc met laborers to praise their contribution to the nation's construction and protection. At the same time, the competition "Vietnamese Laborers' Intellect" organized by the Vietnam General Confederation of Labor in 2017 has selected 30 of 80 products of enterprises across the country to attend "Labor Day". Of which, LHU is ranked 11th and honored ro present at "Ceremony to honor Vietnamese Laborers".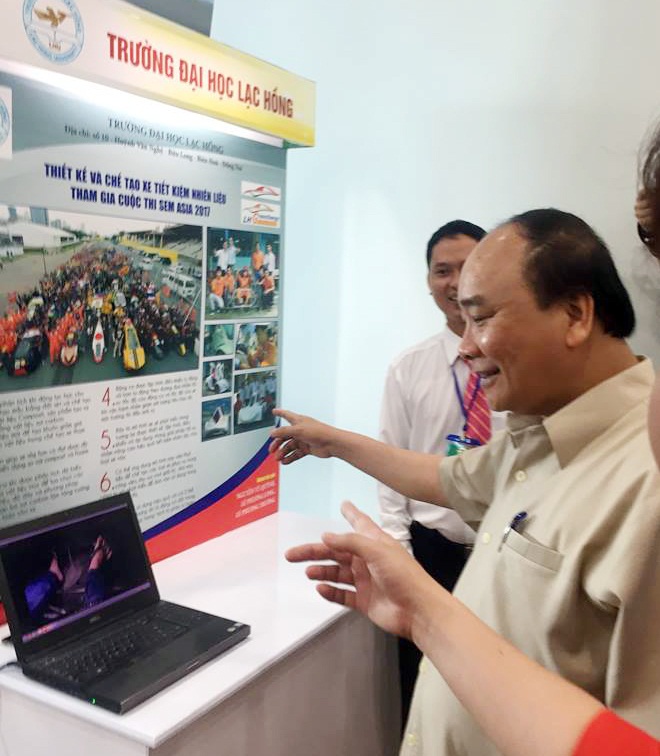 The Prime Minister visited and recalled the success of the University in making robots and fuel-efficient vehicles.
At the ceremony, the Prime Minister visited each booth and encouraged workers who have contributed their innovative products for the society. LHU was honored when the Prime Minister visited and recalled the University's achievements in the field of making robots and fuel-saving vehicles for the past years. In addition, he also encouraged LHU to work harder to continue to achieve high achievements in the contest of creativity, scientific intellect of Vietnam.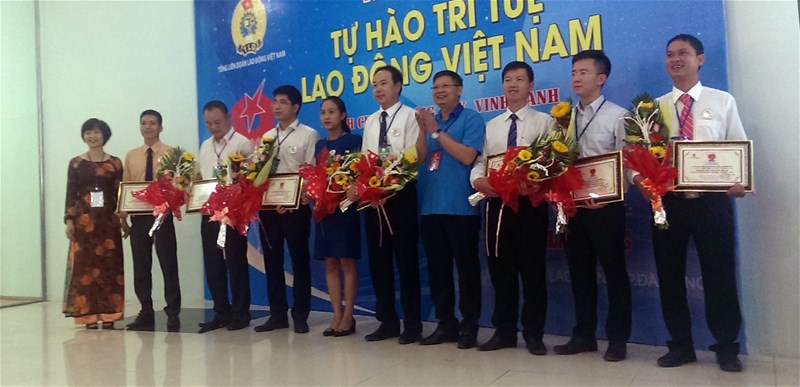 On behalf of LHU, Mr. Le Phuong Long from Mechatronics - Electronics Faculty (right, first) received the certificate of merit at the ceremony.
Joining in the competition "Vietnamese Laborers' Intellect", LHU introduced the product "Fuel Saving Vehicle". This product has domestic practical values and can be applied in the Asia region. It was invented and made by LHU teachers and students. The product has won three consecutive championship titles at Shell Eco-marathon Asia and received many Scientific and Technological Creations awards, especially certificate of merit signed by the Prime Minister in 2016. The product not only has the value of workers' creative thinking, but also demonstrates the value of research, practical application and specially the global nature of fuel saving.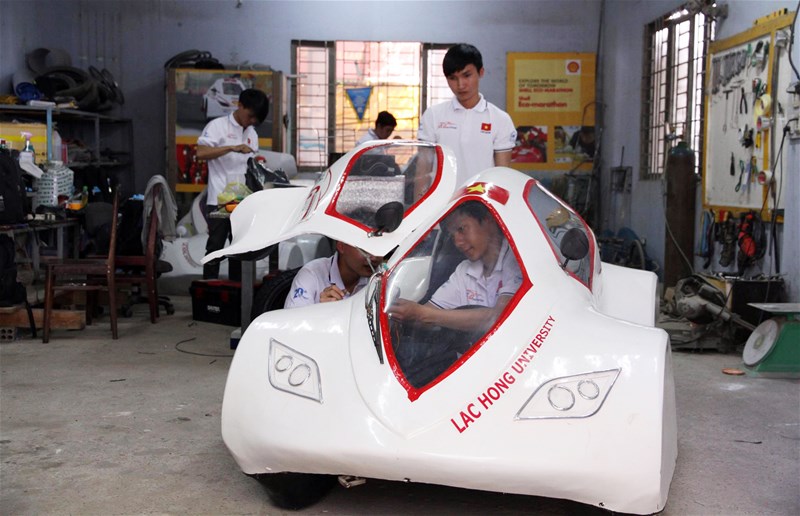 Product "fuel-saving car" and "workers" of LHU.
This is the pride of all generations of students and staff of LHU. That will be the motivation for LHU to promote more creative, scientific and intellectual values.
By Phuong Long - Trans. by WBE