LHU's Face - LHU representative face is an award for all men and women of LHU. The award is also an activity in order to build and introduce LHU's image to the community, society and inspire its people. The competition is voted online at http://face.lhu.edu.vn/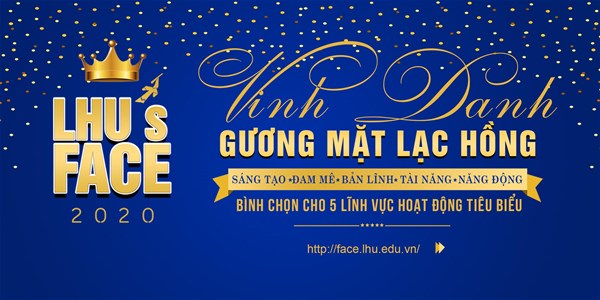 LHU's Face - a competition to honor typical faces of LHU
* Five categories representing five typical activities
1. Creativity - in study
2. Passion- in research - creativity
3. Bravery - in business - start-up
4. Talent - in culture, arts and sports
5. Activeness - in community activities and movements
* General criteria: Individuals have
- Outstanding achievements and activities for the development of LHU
- Stories, messages that inspire people
- Good moral qualities, strong will
* Creativity in study
- Excellent academic results, good moral qualities, good thought, learning goals, non-stop striving
- Being "Student of Five Merits"
- Member of teams in academic competitions
- Circumstance-overcoming efforts
- Winning prizes, scholarships in study
*Passion in research - creativity
- Winning scientific research prizes from the provincial or higher level
- Contributions or winning prizes in technically creative idea contests from the provincial level upwards, winning prizes in technology competitions
- Articles published in domestic and foreign scientific journals
- Innovative products granted patents, published licenses
- Wining provincial, national, regional and international awards
*Bravery in Business - Start-up
- Creative business model ideas, winning prizes at domestic and foreign startups or successful startups, creating own business valuable to the society
- Spreading the entrepreneurship spirit widely in the young community of LHU
- Supporting the successive generations to realize their start-up dreams with specific and meaningful actions
*Talent in culture, arts and sports
- Winning prizes in culture, arts and sports fields
- Special abilities in culture, arts and sports activities
- Actively participating in culture, arts and sports movements
*Activeness - in community activities and movements
- Enthusiastically participating in voluntary activities such as: Green Summer, Blood Donation, Social Work ... and achieving specific achievements
- Practical contributions to social work or noble acts recognized
- Being Union - Association officials or active students in movement activities
- Spreading community activities and common work to LHU young people
* Prizes
The prize is based on the number of votes selected and judged by the Jury. Winners will be rewarded:
- Certificate of merit from the Rector
- Medal, bonus
- Appearing in the inspirational video series produced by LHU
* Voting time
- August 24, 2020: Publishing a list of participants in categories
- August 24, 2020 - September 24, 2020: Official votes, selecting the 3 faces with the highest votes in each category
- September 25, 2020 - September 30, 2020: Selecting the best faces in each category
* Prize awarding
The prize awarding will be taken place at the opening ceremony of 2020-2021 academic year (October 2020 as expected). After prize awarding, the organizers will hold meetings and exchanges with excellent faces in the categories (at the LHU media room as expected).
*Contact information
- See details at: http://face.lhu.edu.vn/
- Register at: https://bit.ly/DangkyLhuface
- Email: nhanhoso.lhuface@gmail.com